GRIND GASTROPUB – KONA TIKI BAR
WHERE:
49 W. GRANADA, ORMOND BEACH FL 32174 - 386.672.7277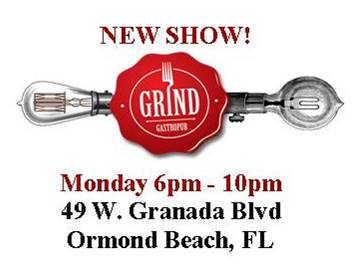 WEBSITES:
http://www.grindgastropub.com/
WHEN:
Every MONDAY night, 6-10 (starting 1.13.14)


ABOUT THE VENUE:

You simply MUST visit their website and Facebook page to see what has happened here. This location is the epitome of being COOL, without being intimidating. Located in the location of the former Caffeine Bistro. If you have not been here since the transformation, you need to come experience Grind. The food selections and quality, the drink list...great wines and beers and full liquor with trained mixologists at the ready. The styling is unique, like nothing you have seen elsewhere. We will be inside the gastropub, which has to be seen to be appreciated. A ton of money, love and artistry has gone into every inch of this venue. DEFINITELY visit their website and explore the menu.

(an article about the transformation: http://www.ormondbeachobserver.com/caffeine-bistro-and-wine-bar-new-look-new-name-new-management/)

The one and only downside is the lack of a huge parking lot on site. There is plenty of parking, you just have to be open minded to either street parking, parking in a municipal lot (across the street, for the city hall) and walking over, or using the free complimentary valet service provided on site via either Granada or New Britain behind the venue. Don't let parking, or thinking that the place is too nice or too trendy intimidate you. Once you set foot inside, you will be won over by the warm and inviting uber cool decor, the professional attentive wait staff, and of course, the food and drink selection. I am very comfortable there, so I KNOW all of you will be too. Once you come in and enjoy the decor and get a feel for what the place is, it will become one of your favorites. Get up, walk around and explore...just be sure to not miss you turn when I call you, LOL. I am very excited about partnering with Grind Gastropub in 2014 and giving my singers a different experience.

What we do at karaoke is something that will be a new experience for Grind as well. I am hoping that I am able to build the night from the ground up, to their high standards, and that my patrons will appreciate the venue and its staff by supporting it on Monday nights. Support means not only showing up, but being willing to buy a few drinks, or maybe an appetizer or even better, having dinner. Bring some friends and make an event of it!! It is that kind of place. I cant wait to see how things grow there for the Harryoke crowd!