About Harryoke! Entertainment

HARRYOKE! ENTERTAINMENT! is a company operated by Harry Smith.
Harry has been a full time DJ and karaoke host since May 1999.

KARAOKE

Karaoke with Harryoke is the karaoke side of HARRYOKE! Entertainment; currently performing several nights a week at clubs in the Volusia/Flagler area. I am also available for your private function anywhere in greater Central FL (Volusia, Flagler, Seminole, Lake, Orange, Osceola Counties and surrounding areas). Whether it is a formal gathering such as a wedding, or a party at the house, I can provide all different types of music, and specialize in a diverse selection of Karaoke tunes for you to sing. My song titles vary from the 40s and 50s to todays current hits. There is a title for every taste! I have a professional high power sound system that delivers clear sound at any volume level. This combined with an attentive DJ/KJ ensures you will sound your best. In addition to karaoke, I also have a diverse selection of music for any occasion for DJ services. I do not use a small low powered home system, I bring to you professional sound gear!


WEDDINGS and OTHER NON KARAOKE DJ EVENTS

In addition to Karaoke shows, I am also capable of providing DJ services for most occasions.
Hosting and emceeing services are available for any occasion including but not limited to:

* Weddings. (See link at top of page for specific wedding info!).
I will help you plan your reception, and coordinate an itinerary with your caterers, photographers and other service personnel.

* Class Reunions
* Corporate Events
* Fund Raisers
* Birthday Parties
* Any get together with the need for music, an emcee or announcer and a clear sound system or public address system.


Contact me for a consultation to find out how I can help you with your next event!
I am well versed in most music styles. My personal DJ specialty is music from the late 50s to early 90s.


A NOTE TO POTENTIAL WEDDING/EVENT CLIENTS: What I do in the bars is not what I do at your event. I have specific equipment for each job, and am able to separate the informality of a bar setting from the formality and tradition of a wedding or other event. If you come to a bar show to see who you are considering for your event, please take that into consideration before making a final decision.

--------------------------------

Anyone who is looking for a unique entertainment experience, whether it is a private party, a public gathering or a contracted club gig. Any place that music or karaoke would accentuate the affair is the place for me to be! In the private sector, the services I typically provide are karaoke shows and DJ services for any occasion. Music makes any event better, and karaoke is the hit of any party! Call me if you are looking to have music/karaoke at a party, reunion, wedding, birthday party, corporate event, or any occasion where people are congregating for a good time!

If you are a club/bar/restaurant owner looking for a night to have a karaoke show, contact me to find out what you should expect from a night of karaoke! Even if I am not available for your show, I can discuss with you what you should expect from a regularly scheduled night of karaoke fun!


A Personal Word To My Friends and The Karaoke Community:
Thank you SO MUCH for your support. You have helped me make my show successful, and allowed me to improve my show and I sincerely appreciate all of you. Thank You!! Whether you visit my show or another show, just keep going to those karaoke shows. Your support of the karaoke community as a whole is what keeps the genre alive!! If you know of a good show, be sure to tell/bring a friend. Spread the word!


**HARRYOKE! Entertainment maintains a friendly relationship with other karaoke shows and DJ's in the area. If I am not able to fulfill what you need, if I am already boooked on the day you need me, or if I feel that someone else may be better suited to fit your needs, allow me to refer one of my associates in your area!
Thank You!

HARRYOKE! Entertainment uses only professional sound components made for a professional setting, not small home components. Vendors I use include: Shure, Audio-Technica, AKG, JVC, Mackie, Alesis, Gemini, Crown, QSC, Yorkville and JBL and others.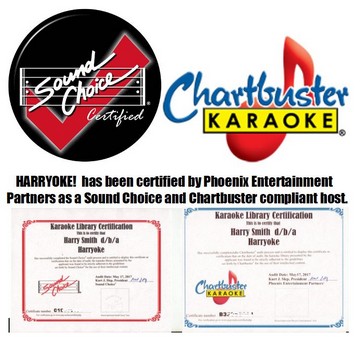 Milestone Dates for HARRYOKE:

May 15 1999: First karaoke party - birthday party for a family friend, across the street from the folks I bought my first gear from. Considered it a training session and demonstration. If the gear worked, and I knew how to use it, I would buy it. Drove up with an empty trailer and left with a new business.

May 17 1999 - First Show at Mothers

May 18 1999 - First Show at Finnegan's (Beachside)

June 6 1999 - First Orlando show at Red Baron. Was thinking I wanted to work in Orlando, so I was learning in Flagler, but looking for venues in Orlando. Just played there for the month of June, they changed management, and the building was eventually sold and torn down in the name of progress.

June 12 1999 - Started at Holly Hill Eagles. Was a twice a month show, which does not catch on, so it did not last long.

June 18 1999 - Started working for Jack Vedder at Glen Abbey in DeBary. Never really picked up there, and that is where I met Ed who owned Peggy's Place, soo.....

July 9 1999 - Started at Peggy's Place. Some of the best memories there ever. Reluctant to start, but hated to leave...stayed until it closed. It is now JTs Seafood in the Hammock.

Nov 18 1999 - Started working for George at what was then the Damn Yankee (Now Fisherman's Net). When it was just the bar and restaurant, they used to stay open till 2 with entertainment, and I played there on Thursdays. After the remodeling in May of 2000, they stopped having entertainment. I still work for George doing his employee and private parties.

Dec 30 1999 - My first wedding!

August 3 2000 - Finnegan's Ladies Night Thursday is Born!

Jan 30, 2000 - Took Super Bowl Sunday off...driving my 66 Galaxie blew a tire on the Broadway bridge and wiped it out, and put my head thru the windshield. First example of other KJs coming out to help me until I got better...but I did not miss a day of work, although I did come to work with my head wrapped for a few days!

Sept 16 2000 - Working for Jack Vedder again at the hotel on Old Kings and 95 across from Plantation Bay...called the Duffers Lounge. Bar closed in Dec.

March 11 2001 - Last show at Peggys..closed.

April 13 2001 - Started long run at Ocean Deck Café, now known as Iron Boot. Went thru 3 or 4 owners and numerous remodels, and infinite personnel changes, but I was there every Fri at 8, rain or shine, LOL. I quit on Jan 16 2004.

June 14 2003 - First ballroom show at Halifax Plantation. Got into the habit of working there about every other month, selling advance tickets and serving appetizers the first hour...did this until the bar was built.

Jan 27 2004 - Started working Finnegan's Daytona.

Sept 9 2004 - Started at Harborside - Henrys at Palm Coast Golf Resort

Sept 23/24 2004 - Life changing accident...broke my neck and unable to work for the rest of the year. Lucky to be alive

July 22 2005 - Harborside closes to begin it's new future as a construction site. LOL.

Sept 11 2005 - Started at Smiles...nuff said...only stayed till Jan 29.

Dec 23 2005 - Halifax Plantation converts the pro shop into sports bar, and I begin my Friday nights there!

Jan 5 2006 - New owners of Finnegan's wonder why Ladies Nights have been sucking, attendees say because I am not there, and I return to reawaken my creation, LOL.

Feb 12 2006 - Hello Shark House Sundays!!

Dec 11 2006 - Shark House Burns to ground

Feb 2007 - Black Cloud - First show Super Bowl Sunday.

May 20 2008 - Last Day at Finnegans Daytona - Closed

May-September 2008 - Finnegans Beachside undergoes massive remodel, and changes name to Finns.

June 10 2008 - Started Tuesdays at La Mer

Oct 6 2008 - Switched to Mondays at La Mer, and started Tuesdays at the new remodeled Finns.

Oct 27 2008 - Last Day at La Mer...they cut entertainment in an attempt to stay afloat.

Sept 29 2008 - Last day at Mothers - closed, lost their lease, moved to the Dog Pound in Bunnell...I did not remain with the organization.

Jan 12, 2009 Started Mondays at White Eagle in Korona

May 17, 2009 MARKS 10th ANNIVERSARY serving Flagler with show #2810

May 18, 2009 10th anniversary of CONTINUOUS employment at Finns with show #2811

Dec 15, 2009 - Show #3000 celebrated at Finns!

Oct 1 2010 - Visited by Harry Smith of CBS News for filming of a segment to air on the CBS Early Show

Nov 8, 2010 - CBS Early Show segment airs.

Nov 11, 2010 - Harryoke appears live on the Early Show in Manhattan.

Apr 18, 2011 - Last Monday Show at White Eagle in Korona

June 14, 2013 SHOW #4000

Jan 13, 2014 - First Monday at Grind Gastropub

May 2014 New Owners take over Black Cloud
April 12, 2015 No show at BC due to owners status...last official show March 29
April 21, 2015 New Owners close Black Cloud with temporary closing until new owner reopens
July 5, 2015 Back at Black Cloud with TIM FINNEGAN.
May 6, 2016 FINNEGANS BLACK CLOUD closes
MAY 15, (1999 -2016) 17th anniversary show #4767
NOV 2016: Black Cloud becomes a Moose Lodge, Harryoke returns
JAN 15 2017 Moose Lodge ceases Sunday entertainment, ending my 9 year
run at the location
MAY 15 2017 18th Anniversary, start of year 19
MAY 2017 Harryoke passes audit from PEP and becomes a Sound Choice and
Chartbuster Certified KJ
DEC 31 2017 - Final Show at The Pub at Halifax Plantation (Under New Ownership)
Feb 28 2018 First show at Lulu's Oceanside Grill
July 6 2018 First show at Dimitris
Mar 8 2019 Last show at Dimitris
Mar 22 2019 First show at Pine Lakes GC
May 16 2019 - Marking 20 Years at Finns/Harryoke show #5454
Nov 27 2019 - last show at Lulus - New Owners in DEC
Mar 16 2020: Last show before pandemic closures, #5670
Aug 4 2020: Resumed 2 day a week schedule at Finns, Tu and Th due to
DEC 31 2020: ending 2020 with show #5726
Jan 15 2021 Started Fridays at Wave Bar and Grill
Feb 10 2021 Started Wednesdays at Wave Bar and Grill
Apr 5 2021: first post pandemic Monday show at Grind
May 7 2021: Show #5800
May 15 2021: 22 year completed anniversary, starting year 23...
Oct 15 2021: Last show at Wave. New owners took over in Sept and opted to not continue karaoke.
Dec 3 2021: Did a one off show at the OB
Dec 17 2021: Started weekly Fridays at the OB
Mar 8 2022: 6000th Harryoke show
May 4 2022: Start Weekly Wednesdays at the OB